What are the Best Window Treatments for Sliding Glass Doors?
You just got some new sliding glass doors installed in your home. You're pleased with the amount of light they let in, but when you want some privacy, you suddenly realize that you need some window treatments. You're shopping around for options, but you want only the best. Which window treatments for sliding glass doors should you consider?
The following window treatments for sliding glass doors all come highly recommended:
Roman Shade Blinds
Plantation Shutters
Blinds
Motorized Shades
Ahead, you'll learn more about each of the four preferable options for sliding glass door window treatments. You're also going to want to check out the section about choosing the right window treatments for you so you can determine which option will most beautify your home and control light the best. Keep reading!
---
What Are the Best Window Treatments for Sliding Glass Doors?
Roman Shade Blinds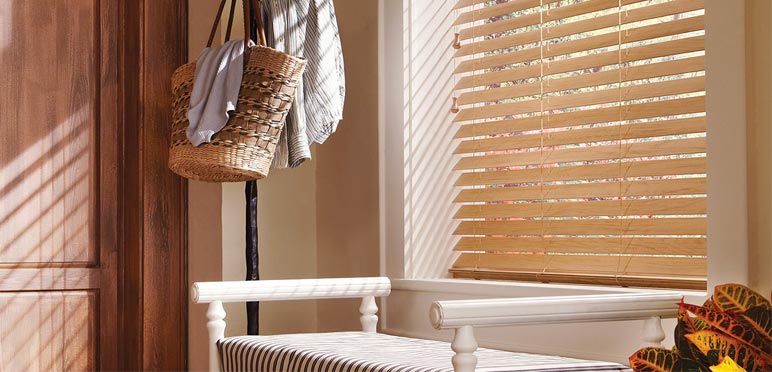 Your first option for sliding glass door window treatments are known as Roman shade blinds. These classic, timeless blinds are like a neater alternative to drapery. Instead of worrying about your curtains getting caught in the components of your sliding glass doors like you would with standard drapery, Roman shade blinds have a cord system that lets you lower or raise the blinds so they sit just right on your sliding glass doors.
A series of rings along the fabric encourage Roman shade blinds to lift in a stack like fashion fold by fold, so you're raising or lowering the blinds in even increments. Besides stacking Roman shade blinds, you can also get blinds in this style that roll. These have no folds, but rather, a long stretch of fabric that rolls up or down when you pull the cord.
Some Roman shade blinds even come in a cellular shade style. If you're not familiar with cellular shades, these both cover sliding glass doors and patio windows while creating insulation. Cellular shades have small insulation pockets throughout that allow you to retain the temperature of whichever room the cellular shades are set up in. This reduces your reliance on your air conditioner and/or heater so you can save money on your energy bills.
Combining the beauty of Roman shade blinds with the efficiency of cellular shade blinds are two choices that you might consider.
Plantation Shutters
Another type of window treatment for your sliding glass doors to seriously consider are plantation shutters. Plantation shutters are not only a great pick for their looks and beauty, but for their functionality as well.
The history of the plantation shutter is a rich, lengthy one, as this type of window treatment originated in Spain. The design of these shutters migrated to America when Spanish settlers landed upon US shorelines. Ever since, plantation shutters have been favored for their style and versatility in homes of all kinds, especially homes in southern states such as Florida. This is due to the southern comfort atmosphere of plantation shutters, of which is undeniable. They're also a great fit both for indoor and outdoor window treatments.
The way plantation shutters work is different compared to Roman shade blinds. Instead of a pulley or cord system that opens one sheet or fold of fabric that is the shade, plantation shutters feature louvers. These are strips or slats that are attached to the shutters at either side with consistent positioning.
When you want more light, you can open the louvers all the way. If you need less light, you can partially close the louvers or shut them entirely. This also makes plantation shutters an optimal choice for privacy.
You may opt to get plantation shutter louvers in various thicknesses, such as 2 ½ inches, 3 ½ inches, or 4 ½ inches, which are the thinnest louvers with the most space between them.
Blinds
You also can't go wrong with a traditional set of blinds for your sliding glass doors that come in a variety of styles. Now don't worry, these don't have to be the cheap, flimsy kind of blinds you may have used in other parts of the home. Instead, you can get high-quality, durable blinds in a variety of styles that suit sliding glass doors especially.
One such style to consider, sliding panels, are elegant, appealing, and will definitely add to your sense of privacy at home. Sliding panel blinds are large blinds that cover more surface area of your sliding glass doors. The panels sit neatly near one another instead of overlapping as some blinds do. This formation prevents gaps that let outsiders see into your home.
Sliding panel blinds are positioned vertically and can open partially or wholly depending on your preferences.
Vertical blinds are another type of blinds choice that many happy customers have considered. Think of these in the same vein as sliding panel blinds, only each panel or blind is a lot thinner. As the name tells you, vertical blinds are also installed vertically.
You also want to think about horizontal blinds as a window treatment option for your sliding glass doors. Horizontal blinds promise less leakage of light since they don't open vertically. Many styles will prevent denting and bending, retaining their original, high-quality look for years to come.
You also have the freedom to style your horizontal blinds as you like, selecting from various finishes, stains, colors, and slat widths. Depending on the slat width you choose, you might let more light in or less. Besides opening the blinds horizontally, with horizontal blinds, you can also use a pull string to raise the entire blinds fixture at once, sort of like Roman shade blinds.
Motorized Shades
Your fourth option, motorized shades, would make a great sliding glass door window treatment. When you go motorized, you ditch the pulleys, strings, and twist wands that let you open your blinds, be those horizontally or vertically. Instead, you press a single button and the shades will open automatically.
Not only do motorized shades lend themselves a tremendous amount of convenience, but from a safety standpoint, they're a good idea as well. For example, if you have several young children at home, you would hate for them to get tangled or snagged in the pulley cords, right? This could cause injury and even be a choking hazard in some scenarios.
For you, motorized shades may make the most sense. The same is true if you have senior parents or grandparents living with you, as they won't have to twist their wrist to open the blinds, which can be painful for them.
How to Choose Window Treatments for Sliding Glass Doors
After learning about the above great window treatments for sliding glass doors, you may be having a hard time deciding on one. Here are some things to keep in mind as you narrow down your options:
Which style of window treatment is the most appealing to you? Perhaps you like the southern feel of plantation shutters, the fabric of Roman shade blinds, the variety offered with traditional blinds, or the convenience of motorized blinds. Sometimes, choosing the right window treatment for you is as easy as which option you like the most.
Do you have small kids or older folks at home? As said, then most window treatments that use pulleys or cords are ill-advised. You can try motorized shades or plantation shutters instead.
How much light do you want to let into your home? Motorized shades and plantation shutters give you great control over the degree of light allowed in. That's true as well to a degree with Roman shade blinds and some styles of traditional blinds, such as horizontal blinds or sliding panel blinds.
---
Conclusion
Selecting a window treatment for your sliding glass doors doesn't have to be difficult. The great options discussed here, including Roman shade blinds, traditional blinds, plantation shutters, and motorized blinds, each have their appeal. Now that you've read this article, you are ready to choose the best window treatments for your home. Best of luck!
Sources
https://www.hunterdouglas.com/stories/window-treatments-patio-sliding-glass-doors