Can Plantation Shutters Be Installed on Any Size Window?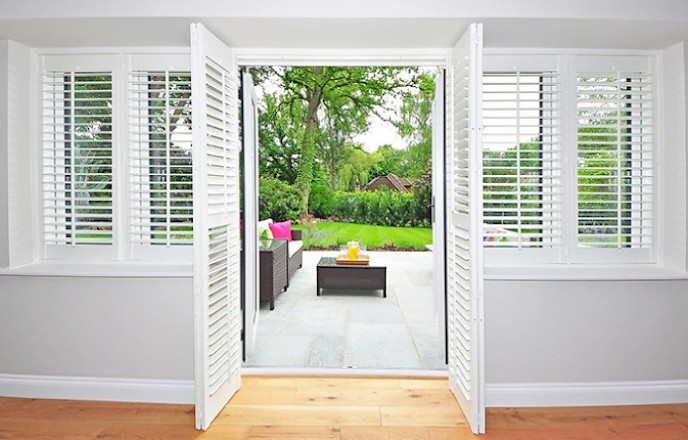 When you think about plantation shutters, chances are images of stately southern mansions probably pop into your head. After all, that's where this style of window treatment got its name. But would plantation shutters work just as well in your home? The answer is a definitive YES!
Plantation shutters can be installed on any size window, as well as any shape window. While size should be of no concern to you when choosing plantation shutters, there are a few things you might want to take into consideration beforehand:
Window Size and Shape
Inside or Outside Mount
Louver Size
Controls
Keep reading to learn more about why you should install plantation shutters in your home, regardless of the size of your windows.
---
Window Size and Shape
One of the reasons plantation shutters have stood the test of time is because of their versatility. Not only are plantation shutters one of the most attractive and efficient window treatments on the market, they are also amongst the most adaptable, easily complimenting any décor, architecture style, and, most important, window size.
Plantation shutters are a true custom window treatment. Each shutter is unique because it is built to the specific measurements of each individual window. So… this might not be the ideal time for you to try a DIY project. Rather, you should probably trust the experts at a full-service window treatment company.
Additionally, living in Florida, you need to consider the year-round heat and humidity. As interior designer and host of Bravo's "Yours, Mine or Ours" explained to Realtor.com, "Pay close attention to all dimensions of the windows you are purchasing them (plantation shutters) for, accounting also for shrinking and expanding due to moisture and temperature."
Accurate measurements are especially important when it comes to oddly shaped windows. But don't let that scare you off from selecting this beautiful and versatile window treatment. Plantation shutters are custom built to fit any size or shape of window. Houzz, the interior design and home remodeling website, illustrates this by featuring plantation shutters installed on two oval bedside windows. Better Homes & Gardens recommends plantation shutters for transom windows, noting that you can also install a fan-shaped shutter over an arched window.
Inside or Outside Mount
Plantation shutters can be mounted either inside or outside window openings. Simply stated, inside mounted shutters are fitted within the window, while outside mounted shutters are fitted to the wall around the window opening. If your window features a decorative trim or molding around it, then you will need to use an inside mount for your plantation shutters. Otherwise, it's a style choice and you can pick whichever one you like best.
One thing that might affect your decision is the size of your window recess; that is how deep the space is between the surface of the window and your wall. An outside mount is preferable for windows with a shallow recess.
Louver Size
Louver size is another personal preference. Louvers are the slats in plantation shutters that let you block out or let in light.
Just like with inside or outside mounts, the depth of your window will determine which size louver you should choose. As Keys to Inspiration explains, "louvers are centered on the shutters themselves, so they will stick out half on the inside of the window frame and half on the outside of the window frame. So, the depth of your window will tell you how large half of the louver size can be for your shutters."
Plantation shutters are typically available in 2 ½", 3 ½", and 4 ½" louver sizes. Generally speaking, smaller louvers give a more proportional look to small windows while larger louvers provide a better view outside.
According to Houzz, the 2 ½" louver is the most traditional plantation shutter size and is a good option for average size rooms with normal ceiling heights. If you have large picture windows and/or soaring ceilings in your home, you might want to consider going with larger louvers. As an added benefit, Realtor.com notes that larger louvers also provide greater energy-conserving power.
Depending upon the height of your windows, your plantation shutters may come with a divider rail in the center, which creates a top and bottom louver section. Keys to Inspiration says this is beneficial because it allows you to control the louvers in the top and bottom sections of the shutters independently. For example, you could close the lower portion for privacy but leave the upper louvers open to let in light.
While many plantation shutters are controlled manually, thanks to the ever-expanding technology in the window treatment industry, some shutter manufacturers now offer smart phone apps that let you program or control the louvers remotely. Check out the Woodlore by Norman if this interests you.
Controls
If you have oversized windows, especially those that are extremely tall or wide, you might want to consider the various control options available on plantation shutters.
Tall windows are best suited for double hung plantation shutters. Similar to the function of a divider rail, a double hung shutter will allow you to operate the top and bottom portion independently, however, these are built as two separate shutters. Because they are double hung, you can fold the top panels all the way back against the wall, while leaving the bottom panels in place for privacy.
You should take the width of the window into consideration when choosing between center opening or bi-fold panels. If you never plan to actually open your plantation shutters back against the wall, then having them open from the center is probably fine. But the experts at Houzz suggest bi-fold shutters if you plan to open the panels, especially if your window is wide. Similar to bi-fold doors, with bi-fold shutters you simply fold one panel on top of the other and push them off to the side. Bi-fold panels take up less wall space when open than center opening plantation shutters, which is why they are recommended for wider windows.
---
Conclusion
From grand picture windows in the living room to a tiny accent window bringing light into your powder room, plantation shutters can be installed on any size window in your home. You can even install plantation shutters on sliding glass doors, bringing their incredible style and functionality into every room of your home.
Sources