Do Plantation Shutters Provide Insulation from Direct Sunlight?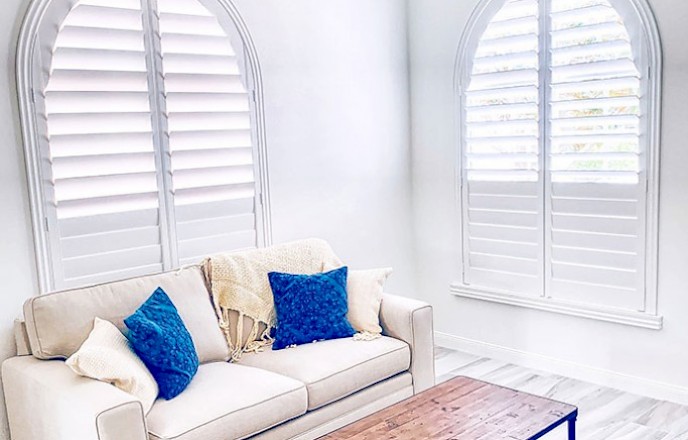 The short answer is yes, plantation shutters do provide insulation from direct sunlight for a couple of reasons, which will be covered in this article. Most Florida residents purchase these units as a wooden finish and select a Hunter Douglas, Norman, or Mirasol style. The best thing about them is that they're easy to open and close much more easily than normal blinds. What a lot of people don't realize when selecting these shutters is that they can have a lot more utility than just blocking out and letting in sunlight.
---
Plantation shutters are great options for direct sunlight insulation for the following reasons:
Temperature Containment: Plantation shutters insulate your home by enclosing your windows and keeping warm air in during the winter and contain cool AC flow during the summer months. Whatever the outside temperature may be, plantation shutters insulate your home by containing only the internal temperatures of your house without letting outside elements in.
Sunlight Regulation: Plantation shutters are better able to restrict the amount of sunlight that comes through the windows. They are also significantly better at blocking out sunlight when closed (along with the sun's heat), and letting in sunlight when desired.
Quality Design: Because plantation shutters are primarily made of wood, the material absorbs temperatures a lot better. The density plantation shutters have makes them more resistant to dramatic temperature increases throughout a hot, summer day.
How Well Do Plantation Shutters Insulate Sunlight?
Plantation shutters significantly block out light when in the closed position. They're not blackout curtains by any means, which means you shouldn't try to utilize these for a home theater. They will definitely give you a better quality of sleep because they do significantly darken rooms and keep sunlight out of people's faces and the TV during use.
One of the great things about plantation shutters is that they give you complete flexibility in how much sunlight you choose to let in. They have a very durable and functional design, which means you can tilt the shutters to the degree you most desire. Their design gives you the option to let in all the sunlight or just a crack depending on how much you want.
In terms of temperature regulation, the best results are achieved by either closing or opening them completely, though a slight opening to let in sunlight won't affect your house temperature if you have good air circulation.
How Well Do They Insulate Temperature?
You might intuitively understand that plantation shutters have an effect on regulating household temperature, but by how much? Sunburstshutters did an interesting study on the effectiveness of polywood plantation shutters (poly shutter, polysatin, and equivalent material types) and found that plantation shutters block 45% of outside heat energy during the hottest parts of the day!
This means that by installing plantation shutters in your home, your house is able to resist the original temperature increases by almost half of the original number! If your house rises from 70 to 85 degrees on the hottest summer day, plantation shutters are able to effectively keep your house below 75 degrees! Combine that with good household air conditioning, and you'll think that it's springtime.
For best results during the summer months, open plantation shutters at night to let cool air in and then close them before it gets hot the next day.
The same applies for winter temperatures as well. This means that plantation shutters will naturally, with no heating utilities, maintain 55% more heat in your home than the projected temperature drop if there were no shutters installed. This can make all the difference in making a home more comfortable to live in.
Important note: Maintaining an outside airflow can be helpful as well, and this is another great benefit of having plantation shutters. Opening them is as effective as opening an entire window frame, as plantation shutters do not inhibit air flow in any fashion when they are left open. They give you great flexibility in instantly and naturally managing your household temperature.
Why Plantation Shutters Provide Maximum Insulation
Plantation shutters have the same resistance to dramatic temperature changes as concrete in a way. Polywood, just like concrete, takes a long time to heat up under a hot sun and continues to stay relatively warm in the early stages of night. It continues to remain cool during the day and only after an entire morning and afternoon can you start to feel the concrete warm up, but not by much. Polywood resists temperature changes the same way in the sense that it doesn't easily absorb and disperse outside the temperature into the house.
What is the Most Insulating Material for Plantation Shutters?
The most insulating material you can select is a polywood material type. Plantation shutters are specifically characterized by their wood louver design. These are similar to the shutter panels standard blinds have, except that each panel is thicker and made from a more durable wood material.
As mentioned earlier, plantation shutters come in a lot of different material types, with the polywood material type being the most effective at providing quality insulation. The polywood material types are made from several different elements instead of just wood. Polywood comes from a vinyl material and the frame itself is usually hollow, makes it more effective at absorbing temperature and changing less sporadically.
Why Material Type Matters for Direct Sunlight and Heat Insulation
While wood is a good insulator, 100% wood is not the most insulating material you can choose when selecting a custom plantation shutter design.
Different material types have varying abilities to absorb sunlight and heat. Some of them have better thresholds for blocking out sunlight either because of texture, density, or style.
You can pick from the three primary styles most effective at providing direct sunlight insulation including:
If you don't have a serious issue with insulation already, then don't rule out the utility in selecting wooden plantation shutters as well. Wood is extremely durable, especially if you select this finish on all of your blinds.
This adds another layer of insulation because hot and warm air gets trapped in the hollow frame and has a harder time affecting the internal temperature of a home.
Conclusion
As you can see, plantation shutters are a great option for outfitting your home and increasing your insulation and they come with virtually no drawbacks. Regulating direct sunlight into your home has never been made easier through the use of plantation shutters. Most people are unaware of how effective they can be at increasing your ability to regulate sunlight and controlling temperatures all throughout your home.
---
Sources