What Kind of Shutters and Blinds Are Right for You?
Buying new window treatments for your Florida home is a great way to instantly improve your space. New window treatments will help provide you and your family with increased privacy and the ability to filter out the light. Plus, they can really improve the look of your home. Of course, shopping for shutters and blinds can be a challenge; there are so many different options out there for you to choose from, and you might not really know where to start. Take a look at these questions to ask yourself and contact Florida Shutters & Blinds for further information.
What Style are You Going For With Your Shutters or Blinds?
First of all, you should think about your personal style and the look that you are going for throughout your home. For more traditional homes, plantation shutters are a fantastic choice. They are becoming a mainstream choice that can work anywhere, but they really provide a touch of Southern charm to older homes or homes with a more traditional look and feel.
Another option that looks great in a more traditionally styled home is wood blinds. In addition to looking at blinds that are made from real hardwood, you can also check out faux wood blinds for a similar look at a lower cost.
If it's a more modern look that appeals to you, you may want to take a look at the sleek shades that are available. You can opt for traditional, simple roller shades or the more modern and energy-efficient honeycomb shades depending on what you find more attractive.
Of course, in addition to choosing the right type of window coverings for your home's style, you should also pay attention to the color. White or black shades or blinds might be the right choice for a more modern home, while a wood look is perfect for many more traditional homes.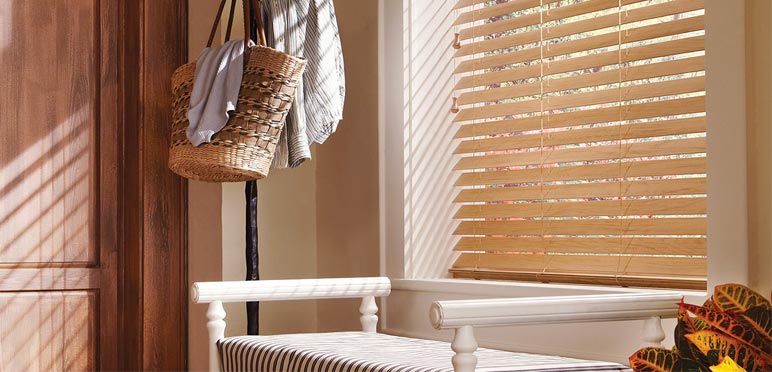 What Is Your Budget for Window Treatments?
Your budget must be taken into consideration when you are purchasing window treatments for your Florida home. From cheap mini blinds to high-end plantation shutters, window coverings come at all different price points.
If you are looking for window coverings that are on the more affordable end of the spectrum, you may want to choose simple blinds that are made from aluminum, vinyl or faux wood. Roller shades are typically also an affordable choice. Of course, cheaper window coverings may not hold up as well or last as long as higher-end, more expensive options, but they still may surprise you with their durability.
For bigger budgets, you have even more options. Real hardwood blinds, plantation shutters and honeycomb shades are all choices that you can look into if you're willing and able to spend a little more on window coverings.
What Types of Windows Do You Have?
You will need to take measurements and pay attention to the types of windows that you are buying window coverings for. Plantation shutters, blinds and shades can work on most window types, but for big bay windows or sliding glass doors, your options may be more limited. For sliding glass doors, you may want to opt for vertical blinds. Roman shades are an ideal choice for bay windows, but there are other options that you can choose, too. Your window treatment designer at Florida Shutters & Blinds will be able to advise you and is an excellent resource.
Do You Have Young Children?
If you have children, it is important to choose window treatments that are safe for them and that are easy to clean. Opting for cordless blinds is smart if you have small children in the house, since cords can be very dangerous for your little ones. Even if your children are all grown up or you don't have children at all, keep in mind that you might have young guests when family or friends come to visit.
In addition to choosing safe window coverings, you should think about how tricky they will be to clean. Although shades that are made from cotton and other fabrics look nice, they can also become dirty easily. Instead, you may want to choose faux wood blinds or other window coverings that can be easily and thoroughly cleaned of dirty fingerprints when necessary.
Do You Have Pets?
Pets are notorious for unintentionally wreaking havoc on window coverings, so if you have indoor pets, you'll want to take this into consideration when choosing your shutters or blinds. Dogs and cats alike may try to push your window coverings aside to look out the window or may scratch or tear your blinds or shades.
Simple and cheap mini blinds are a popular choice for many homeowners, but they can become easily destroyed by curious and destructive dogs and cats. Also, if you choose blinds that have cords, you should be aware that they can be dangerous for your furry family members.
If you do choose blinds for your pet-friendly home, consider choosing those that are made out of wood or faux wood for improved durability. Opt for cordless blinds to both protect your window treatments and keep your pets safe. Vertical blinds that will part easily when your pet wants to look out the window are a solid choice, too, particularly for bigger windows or sliding glass doors. Just be sure to dust your blinds regularly to get rid of any pet hair that might accumulate.
Roman or roller shades are also a choice worth considering. Because there are no slats, there is less risk of them becoming damaged by your pets. Shades made from most materials can be wiped down or vacuumed regularly to remove noseprints or fur.
Do You Like Letting the Sun Shine In?
Some people prefer to keep their homes nice and dark on sunny days, but if you are someone who prefers to let a little bit of light shine in, you will want to choose your window coverings accordingly.
Blinds or plantation shutters are easy to adjust so that you can let in varying amounts of light. Pirouette or silhouette shades are a great choice for those who prefer shades but who want to be able to adjust their shades much like blinds.
Sheers are another option for rooms where you don't mind having the light shine in. Unlike other window coverings, though, they cannot be used for blocking out the sun effectively when you would prefer for your windows to be covered. Also, sheers might not be the right choice in rooms where privacy is a concern, such as in the bedroom or bathroom.
If you are looking for the right shutters and blinds for your home, you should explore all of your options. Asking yourself the questions above can help you get started in the right direction, or you can contact Florida Shutters & Blinds for a consultation and design assistance.