What Are The Best Brands of Window Blinds?
When living in Florida, it's vital to safeguard your home and belongings against the power of the sun. Sturdy window blinds offer protection, privacy, and peace of mind, so it's important to make the right selection.
Thankfully, there are a vast amount of options available to homeowners today. Here are some of the top choices that are sure to work with your lifestyle:
Alternative Wood Blinds - Attractive, long-lasting, and available in a variety of colors.
Hardwood Window Coverings - Crafted from sustainable materials, these luxurious blinds will protect your family for years to come.
Aluminum - Metal blinds are durable, stylish, and come in a huge range of styles and finishes.
Vertical Blinds - Far superior to the vertical blinds of decades past, these cool window treatments look amazing and will complement any type of household decor.
Trends in window coverings, blinds, and drapery come and go like other fashions, but high-quality blinds like those described above are a classic choice that will stand the test of time. Read on for more details so you can make the right choice for your home.
---
Faux Wood Forever
These types of blinds are made from a composite of materials but still retain the charming look and feel of real wood. They offer security and relief from the sun's rays while being impervious to heat.
Because they are resistant to warping, faux wood blinds like SmartPrivacy® from Norman or Everwood® by Hunter Douglas are perfect for rooms with higher moisture or homes in wetter climates. Faux blinds also have tighter closures that offer extra shade for midday naps.
Alternative wood blinds are also easy to maintain so they'll look great for many years to come. Just dust them off once a week with a handy microfiber cloth - a multi-room workhorse in the battle against dust. For a deeper clean, warm water and your favorite mild detergent will easily do the trick.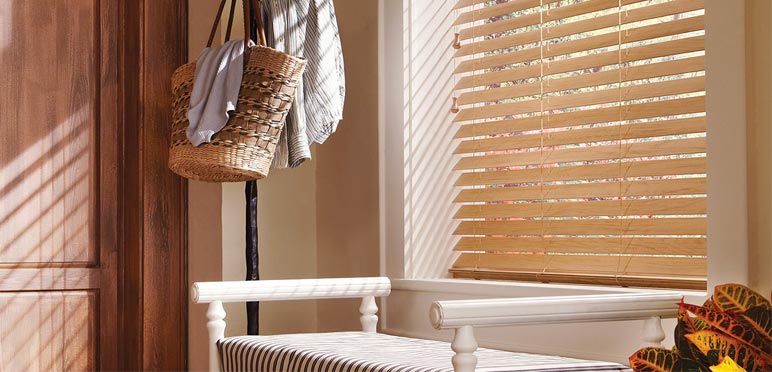 The Real Thing
Sometimes you just crave the feel and look of real wood. They create an atmosphere of warmth and luxury and offer years of privacy and enjoyment. Lighter than faux wood options, blinds made from real wood are an excellent choice for larger-sized windows.
You can typically find this type of window shade available in basswood, cherry, and oak. Brands like Parkland® or Normandy® Wood Blinds are eco-friendly as well as visually appealing.
If you're searching for high-quality window coverings that will add value to your home, blinds made from real hardwood are an excellent choice. Just remember that wood can be damaged by excess water, so it should be cleaned with a specialty cleaner and dried thoroughly. Apply a light coat of wood furniture polish to help repel dust and leave your blinds with an aromatic shine.
Heavy Metal
Aluminum blinds have several benefits, depending on your location and the needs of your household. Their benefits including being lightweight, versatile, easy to maintain, and quite affordable.
Choices like Modern Precious Metals by Hunter Douglas or Norman's CityLights™ are perfect for active households seeking shade and protection. These stylish metal blinds come in a plethora of colors and patterns.
Metal window coverings are great for those in tropical climates as they are water and heat resistant. However, as House Beautiful states, they can sometimes have sharp edges, so it's best not to use them for windows accessible to children or pets.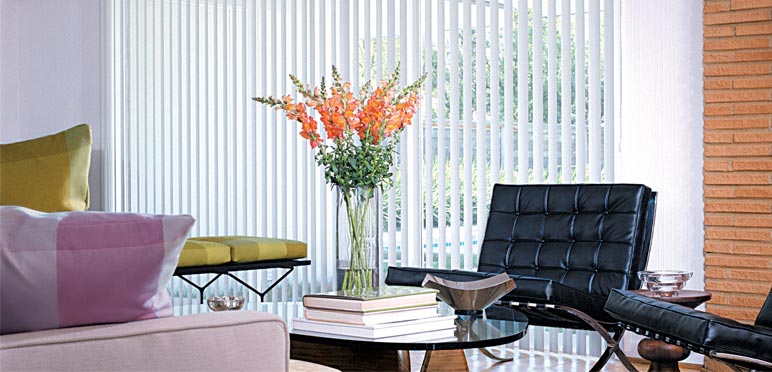 An Updated Shade Solution
In years past, inexpensive vertical blinds didn't last very long and the slats were constantly falling down. Today's versions are much more durable and made from higher-quality materials. Usually created from vinyl or fabric, vertical blinds can be easily matched to the style of your home.
Good Housekeeping points out that since gorgeously decorated windows are often a room's focal point, your choice of blinds should be both "decorative and functional." Selections with vertical slats definitely hit both marks.
Popular brands like Somner®, and Vertical Solutions® last for many years and continue to look great with some simple maintenance. For fabric blinds, just use a soft-bristled brush attached to your vacuum for quick removal of dust. Don't get them wet, as this could discolor or otherwise damage the fabric.
Vinyl blinds offer sturdy construction and affordability as well as cooling shade and enhanced privacy. They're simple to clean with your ever-useful microfiber cloths, or taken down and lightly rinsed with warm soapy water - but be sure to dry them completely before hanging to avoid water spots.
---
Conclusion
While there are an infinite variety of window covering types to choose from, blinds are your best bet for light control, safety, affordability, and timeless style. Companies like Hunter Douglas and Norman Window Fashions offer only the highest-quality blinds that your family deserves. Whether you choose faux wood, real wood, aluminum, fabric, or vinyl blinds, you can rest assured that they will protect your home from the bright sun and nosy neighbors for a very long time.
Sources