Holiday Window Treatment Decorating Ideas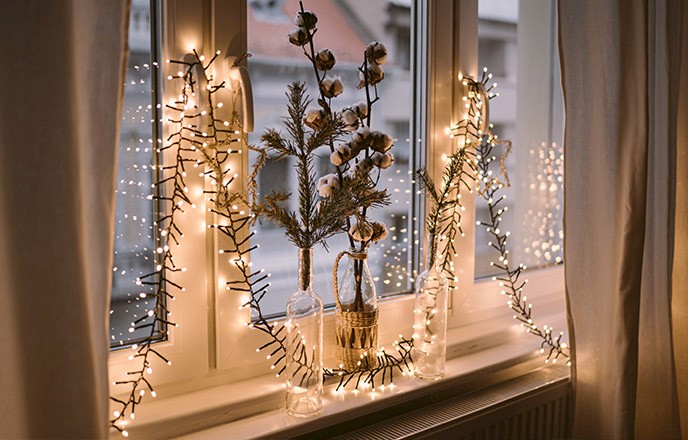 Typically, when it comes to decorating your house for the holidays you focus on either the inside or the outside. But what if you could do both? Your windows provide a unique opportunity to spread holiday cheer to you and your family, as well as your neighbors and passers-by. It's time to think outside of the box and look at ways you can enhance your window treatments, turning them into festive holiday décor.
Holiday window treatment decorating ideas can be broken down into several distinct styles:
Let It Snow
All That Glitters
Think Big
Tiny Treats
Go Green
Twinkle, Twinkle
Fit To Be Tied
Keep reading for some clever and crafty holiday window covering decorating ideas, for all faiths, including a few DIY projects that are fun for all ages.
---
Let It Snow
You don't need to live in a cold-weather climate to create a winter wonderland in your home. One of the simplest ways to decorate your house for the holidays is with homemade snowflakes. It's time to harken back to grade school when a pair of scissors and a sheet of white paper was all you needed to produce a blizzard of one-of-a-kind snowflakes. Channel your inner child – or enlist the help of your kids or grandkids – to make paper snowflakes to hang in your windows. You can attach them individually with a small dot from a glue gun (or use tape or a command strip) or string them together and hang the snowflakes from the window edges or curtain rods.
Another option is to use washable white automobile markers (like the kind car dealerships use to write prices on car windows) to draw your own snowflakes or write inspirational messages on your home's windows. Spray snow applied near the windowsills can create the illusion of a light dusting of fresh snow.
All That Glitters
There's something magical about how the sunlight sparkles off of delicate ornaments. Consider hanging beautiful metallic or glass orbs from decorative ribbon in front of your windows. Place them at varying heights for an extra special effect that looks like it was taken straight from the pages of an interior design magazine.
Translucent plastic or glass icicles will also catch the sun's rays creating beautiful prisms. These can easily be hung in front of windows to enhance your winter wonderland vibe.
Think Big
The holiday season will be extra sweet when oversized plastic candy canes hung from brightly colored ribbons decorate your windows. Although typically used in outdoor décor, they're light enough to be used inside the house as window dressings.
If you have an artistic flair, consider making your own oversized Christmas ornaments. One Good Thing created a festive display in their window using small red inflatable balls and empty yogurt cups spray-painted silver or gold. This DIY project is super simple but makes quite an impression when the ornaments are hung as a group outside your front windows.
Tiny Treats
Pint-sized items can make a significant impact, especially when it comes to holiday decorating. Attach small stockings (hint: colorful toddler socks are the perfect size) or miniature-sized wrapped presents to strings or ribbons draped across your windows or hanging from the top.
Small evergreen wreaths hung from red ribbons make a bold statement. It's a clever twist on classic holiday décor, as wreaths are typically reserved for doors, not windows.
Go Green
You may deck the halls with boughs of holly, but your windows call out for garlands of greenery. Swag evergreen branches across the tops of your windows to create a natural valance. Add felt trees, shiny stars, or other ornaments to spruce them up a bit. In keeping with the natural feel, consider arranging pinecones or holly branches along the windowsill.
If your home has French doors or sidelight windows (the narrow vertical windows next to the front door), you might want to consider hanging three wreaths vertically from one long ribbon. It's a wonderful way to welcome the holiday spirit into your home.
Twinkle, Twinkle
By hanging small LED lights, also called fairy lights, behind sheer curtains you can create a festive glow to enhance your holiday decorations. While there's no denying that candles make beautiful home décor – and are an important part of holiday celebrations, particularly for families celebrating Chanukah or Kwanza – they can be dangerous. You do not want to place lit candles near your windows, especially if you have drapery or blinds as window treatments. That can be a fire hazard.
Better Homes & Gardens came up with a craft project to create a colorful menorah that will look beautiful in your window but poses no fire danger. Start with nine empty spice jars, or similar glass containers. Fill them with layers of colored sand that you can buy at a craft store. The sand comes in almost every color imaginable so you can pick hues to match your home décor or go for traditional Chanukah colors like white, blue, and gold. Once you have filled the jars, insert silver straws topped with yellow tissue paper or construction paper cut to look like the candle flames. This is a super fun project the whole family can do together.
You can create a safe Kwanza kinara using seven small glass votives or glass jars (like from baby food), some red, green, and black paint, and seven battery-operated tea lights. You will also need a plank of wood and a glue gun to secure the candelabra. To create this DIY project from HGTV, start by painting three of the jars red, three green, and one black. Once they have dried, hot glue them onto the board, placing the black one in the middle with the red bottles on the left and the green bottles on the right. Put a tealight into each one and you've crafted a custom kinara to place in the window, on the fireplace mantle, or use as a table centerpiece.
Fit To Be Tied
While many modern homeowners are opting for plantation shutters or other window treatments such as Roman shades and blinds, curtains are still quite popular. If your home has traditional curtains, you can freshen things up during the holiday season by swapping out the tiebacks with oversized bows made from holiday-inspired ribbons. You could also temporarily replace your curtains with special holiday fabric curtains. The possibilities are endless! Just check out your favorite home décor store or online merchant.
You can turn your windows into an enormous advent calendar by tying small fabric pouches to tension rods wrapped in ribbon. This clever idea comes from the home décor website DigsDigs. This project is super simple. You just glue felt numbers onto each pouch as they did, or you could use fabric paint to decorate each one yourself. Then simply fill each bag with a special treat to unwrap each day.
Design Megillah's paper dreidel door hanging could easily be hung in a window. All you need for this DIY project is a blue ribbon, a few different shades of blue scrapbook paper, and a gold paint pen or metallic Sharpie (to write the Hebrew letters). The design maven behind this holiday decoration offers step-by-step directions to create her paper dreidels. Don't worry, it's much easier than origami. To turn the dreidels into a window decoration, simply tie them together with ribbon and secure them with a command hook.
---
Conclusion
While many homeowners think holiday decorating begins and ends with putting up a Christmas tree and decking the halls with boughs of holly, you're really missing out if you don't extend your holiday spirit to your window coverings as well. From sparkling snowflakes and glistening globes to twinkling lights and decorations all tied up with bows, the possibilities are endless when it comes to holiday window treatment decorating ideas.
Sources