How to Decorate Around Plantation Shutters
When you hear "plantation shutters," images of secluded, rural country homes most likely pop into your mind, and for good reason. These window treatments have been the foundation of early southern style homes. What you probably don't envision when you think about plantation shutters is a hip beachside bungalow or a Victorian-style estate.
Here's a surprise- with the right decor, plantation shutters can seamlessly match various home styles:
Traditional homes with timeless design elements
Natural homes that embrace the outdoors
Urban homes that demand function and style
You may be surprised to learn that plantation shutters have taken a leap from window treatment to other areas of the home, offering unexpected design options that have increased their use. These window treatments even work with curtains, allowing you to expand their use to even more settings.
Plantation shutters have come a long way since their early days as a humble window covering. Keep reading to find out how to decorate around plantation shutters to create an incredible look that elevates your space.
---
Capture Traditional Charm
Based on its historical usage, plantation shutters fit right in when you're trying to create a space filled with down-home appeal, particularly if you go with classic white. When paired with rustic pieces of furniture, this window treatment captures traditional southern charm that has been extremely popular over the past few years. Other throwback styles that have incorporated plantation shutters include the farmhouse, industrial chic and shabby chic movements.
In the relaxed home, this desirable style revolves around comfortable furniture and decor that creates an informal feel that encourages you to cuddle up on the couch with a book. If you're looking to embrace the Old South style in your home, Southern Living points out that there are a few traditional design and decor elements that you can't go wrong incorporating with plantation shutters:
Mix old and new furniture and decor to help tie in the classic look of plantation shutters.
Use a pop of bold colors to give some contrast between neutral-toned shutters.
Position a unique focal piece of furniture to draw the eyes to your stunning shutters.
Use plants to add life to your home, and absorb the plentiful sunshine your shutters can let in.
Connect Your Home to the Scenery Outside Your Windows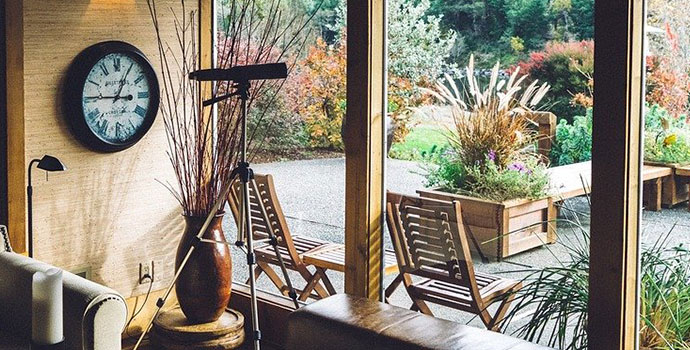 Speaking of plants, plantation shutters can help connect your home in the natural beauty just outside your windows. If you've selected this window treatment to take advantage of the incredible views around your home, the last thing you want to do is obscure your line of sight. Avoid crowding your windows with large pieces of furniture. Instead, keep shorter, less bulky pieces closer to the windows, and set your larger items further away.
Pick furniture that allows you to take advantage of the incredible views available outside your home. The broad vistas available through plantation shutters help visually connect your indoor space to the outdoors, anchoring your home to the land around it. Whatever your personal style, avoid overshadowing plantation shutters.
You may not have realized that plantation shutters aren't limited to your windows. You can even incorporate them on your doors for a dramatic effect that blends with the rest of your home's window treatments. With their airy feel, they again offer another opportunity for you to let in natural light and enjoy a glimpse of the outdoors.
Add Some Window Charm to City Living
Think plantation shutters are reserved for the country life? Think again. Thanks to their tremendous ability to block out noise, sunlight and nosy neighbors, these window treatments have gained a strong foothold in urban homes. But don't be fooled by their humble beginnings. They offer as much contemporary style as they do function.
Plantation shutters can come in various louver widths and finishes, from white to cream to rich, dark natural wood colors. A simple rule of thumb is to try to echo the color of your shutters elsewhere in the room to help tie it all together. With their variety of colors options, though, they offer a level of flexibility that allows you to effortlessly match them to your current color scheme.
Plantation shutters can even help balance the pictures or artwork you have on your walls and inform their placement. Whether you want a symmetrical look with the window treatments acting as an anchor point or you want to use them to provide some asymmetrical movement, you have plenty of options. Many homeowners use the location of their plantation shutters to help direct their furniture placement.
With their natural eye-grabbing appearance, shutters are gaining popularity as the artwork on your walls, even without a window to cover, according to Decoist.com. Many homeowners are now embracing the use of repurposed and vintage shutters to add visual interest as a design piece in their home.
Dress Up Your Window Treatments with Curtains
Curtains and plantation shutters? Shutters already offer protection from the sun and people passing by, so why would you possibly want to do something as redundant as add curtains? The reason is the style and mood this pairing can offer as it matches the rest of the room.
Houzz points out that well-placed curtains can soften the angular, sharp appearance of plantation shutters, allowing your window treatments to better blend with the rest of your home's design elements. This is particularly true in living rooms dominated by bulky upholstered furniture. Due to its versatility with matching other colors, white plantation shutters are often recommended if you plan on pairing them with curtains.
HGTV offers some helpful tips on avoiding a curtain catastrophe that could destroy the look of your plantation shutters:
Hang curtains high and wide above windows.
Layer curtains for more interest.
Let curtains extend to the floor.
---
Conclusion
The moral of the story when you're considering plantation shutters is that they offer tremendous decoration flexibility. With their wide array of styles, sizes and even uses (including as windows, doors, room dividers and wall art), this functional home element has made the leap to an all-purpose design workhorse.
With that flexibility comes numerous ways to decorate around them. It's easy to pick up color, shape and design cues from your shutters, and then echo that in the rest of the room. Like all home design elements, it's about ensuring the piece is able to add a new style dimension to your home without being gaudy or distracting, which is something plantation shutters excel at doing. This window treatment has been brightening up homes for hundreds of years, and they're sure to remain a design staple for many years to come.
Sources