What Are the Top Window Treatments for Bay Windows?
You love having bay windows in your stately living room, but you wish you could better control the amount of light let in. That has begun your search for window treatments, of which there are many more for bay windows than you thought. How do you narrow down your options? What are the top window treatments for bay windows?
The following window treatments for bay windows are considered the best and the most visually appealing:
Roman shades
Drapery
Wooden Blinds
Valances
Plantation Shutters
Sheer Shades
A combination of methods
If you want to learn more about your window treatment options for bay windows, then this is one article you're not going to want to miss. Ahead, read detailed explanations on each window treatment so you can decide which would best accent your bay windows!
---
Roman Shades
Your first window treatment for your bay windows is Roman shades. Ideal for preventing sunlight from getting through, these dignified shades are a perfect fit for your bay windows.
When you pull them down, Roman shades look more like drapery than blinds, as there's no ribbing or bumps. Roman shades also roll up and stack in sections, either through a cord or cordless operation.
The cords are built into the Roman shades themselves, typically between horizontal eyelets or stiffener rods that the cord can control. This allows you to partially or fully open and close the shades as you wish. Cordless shades may use a remote control with buttons you can press for opening and closing your shades just as precisely.
Either way, if you want to drink in only some of the gorgeous Florida morning sunlight as you relax in your living room, Roman shades let you do that. You can reduce heat in your home while still appreciating the beauty of your bay windows with these shades.
Drapery
A simple yet effective window treatment, drapery might be right for your bay windows. Available in a myriad of colors, styles, and thicknesses, you have your pick for drapes that fit in with the rest of your living room décor.
Some drapery can easily hang across the entirety of the bay window, blocking out its beauty. You don't want that, but fortunately, you have several options to prevent excess coverage. For example, you can gather and tie your drapery. This also prevents the curtains from obstructing the sun and forcing your living room into darkness.
Blindsgalore.com provides an additional option for hanging drapery by attaching a tension rod between your bay windows and then mount your drapery to the rod. Your beautiful bay windows will remain visible–and even better–you can gently pull the curtains along the tension rod to increase or decrease sunlight throughout the day.
Wooden Blinds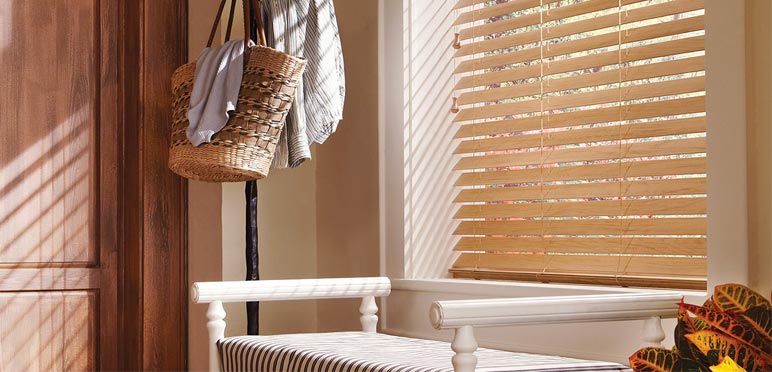 Although traditional plastic blinds are great at blocking out light, there is another option for you to consider. Hunter Douglas recommends upgrading your living room and your bay windows with a window treatment such as wooden blinds. You can even choose faux wooden blinds that look just like the real thing but don't require as much ornate care.
Your living room will be far more inviting thanks to the natural warmth of the wooden blinds, and you can let in slats of sunlight or the full brunt of the light into your living room when the mood most suits you.
Horizontal blinds may be the standard, but they're far from your only option. Vertical blinds give any living room a unique decorative touch since these blinds are so uncommon. Although most blinds open and close via a cord or a pull rod, by motorizing your wooden blinds, you again get precise control of how much light is in your living room at anytime.
Valances
If you'd rather stick to linens but you're not quite fond of long drapery, valances are a great consideration for a window treatment. If you're not familiar, a valance is simply a curtain or cover for your window's topmost part. You can use the valance on its own or combine it with curtains or blinds.
Valances can control light to a degree, especially when used with other measures. More so than that, they look pretty, as a classy valance set on your bay windows will instantly jazz them up.
Plantation Shutters
Plantation shutters have a rich and storied history in the great state of Florida. Spanish settlers coming to America used the original form of plantation shutters. When the settlers built their homes, the plantation shutters were a natural feature.
Florida was one of the first U.S. states to carry on with this trend, as Floridians could quite appreciate the optimal sunlight control plantation shutters offer. These days, you can find plantation shutters in homes across the country, but remember, Florida embraced the trend early.
The louvers on plantation shutters, which are strips or slats, are a standout you won't find in other types of shutters. Depending on the style, louvers may have a hung or fixed positioning. When opened wide, light and air can freely travel between the louvers. If you close up your plantation blinds tight, light doesn't pass through.
Louvers come in different thicknesses, with 2 ½-inch louvers some of the thinnest around and 4 ½ inches much thicker. Your plantation shutters might have more louvers if they're thinner than if they're thick.
Sheer Shades
If you're still not sure which window treatment might suit your bay windows, you should also consider sheer shades. As the name suggests, sheer shades are more transparent than the average set of shades, but not so see-through that light and heat can just permeate through.
The material used for sheer shades is gauzy and lightweight. Most sheer shades include a standard curtain rod setup, although others may be controlled through a remote.
One of the benefits of sheer shades is how you can filter light more finely than with some of the other window treatments discussed. When they're closed, sheer shades let in a gentle, romantic amount of light, and when they're open, you get the standard sun.
A Combination of the Above
If you liked a couple of window treatments and you just can't choose one for your bay windows, who says you have to? Many of the above window treatments are combinable. For instance, you can use valances with curtains as well as Roman shades, sheer shades, or wooden blinds.
You can also get plantation shutters or shades for your bay windows and then add drapery for a picturesque, complete look in your living room. Blocking out the sun can be as much about form as function after all!
---
Conclusion
If you've searched high and low for the right window treatments for your bay windows, you have plenty of options. Roman shades are an appealing classic that add luxury to your living room. Faux wooden blinds require less maintenance, but their beauty is still unparalleled.
Sheer shades create a soft, romantic atmosphere perfect for relaxing after a hard day of work. Plantation shutters are long a staple in Florida homes because of their timeless charm and precision light control. You can also add valances and draperies to any of these window treatments.
Whether you like to let in just some sunlight or a whole lot, there are window treatment options available to accommodate your preferences.
Sources