What Are the Most Energy Efficient Window Treatments?
There are many things you can do to make your home more energy-efficient, from simply regulating the thermostat to purchasing energy-efficient appliances. But, to get the biggest bang for your buck you might want to consider replacing your window treatments. Designed with both form and function in mind, today's window treatments are both attractive and energy-efficient.
To help you choose the best energy-efficient window treatments for your home, it's important to look at the benefits of each option:
Plantation Shutters
Shades
Blinds
Curtains and Drapes
---
According to the Department of Energy, energy-efficient window treatments can help you "reduce energy loss and lower your heating and cooling bills" by about 30%. Keep reading to find out how to make sure you pick the best energy-efficient window treatments for your home.
Plantation Shutters
Plantation shutters are a great choice if you want a window treatment that is both aesthetically pleasing and energy-efficient. Because of their louvered design and how they are installed on the window, plantation shutters do an excellent job of regulating your home's temperature. This, in turn, lets you save money on your power bill.
When installed within the window frame, plantation shutters create a tight barrier that basically acts as an added layer of insulation. While this certainly helps provide energy savings year-round, it's most effective during the cooler months of the year. In simple terms, plantation shutters keep your home toasty warm by sealing the heat in and preventing the cold outside air from entering your house.
In addition to regulating temperature, plantation shutters can also help you save money on heating and cooling costs by restricting the amount of sunlight that enters your home. The heat from the sun can raise your home's temperature by several degrees. During the summer months, remember to close the shutter's louvers during the day to prevent the sun's rays from heating up your home. This means you probably won't need to run your air conditioner as much, thereby improving your home's energy efficiency.
Shades
Window shades are another great option. They come in a wide variety of styles, with some providing more energy savings than others.
Insulated cellular shades are generally considered to be the most energy-efficient window shade on the market. They are sometimes called Honeycomb Shades because of their unique shape. The pleated material, when open, resembles a honeycomb. The cells in these shades create air pockets that act as energy-saving insulators. Energy.gov found that insulated cellular shades can reduce the sun's heat by about 80% and reduce "heat loss" by about 40%. That adds up to significant energy savings over the course of the year.
At the same time, roller or Roman Shades should be considered as well. These are probably best suited for rooms that do not get direct sunlight. Because they sit close to the window glass, roller and Roman Shades provide plenty of insulation. Green Energy Efficient Homes notes that roller or Roman shades can reduce heat loss by almost 30%.
To further optimize energy efficiency, research the benefits of solar shades. These are made from special fabrics and materials engineered to block the sun's harmful UV rays but still allow light to enter a room. By keeping the sun's rays out, you prevent the room from heating up. This means your air conditioner doesn't need to work as hard to cool things off.
Blinds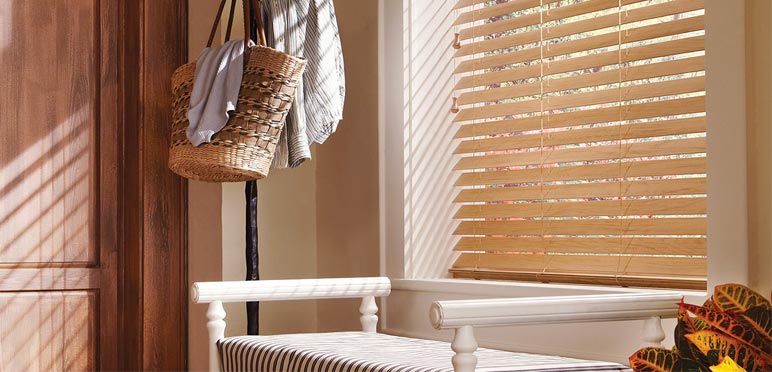 In terms of energy efficiency, window blinds, including both vertical and horizontal as well as sliding panels, are best suited for warmer climates, such as Florida.
Green Energy Efficient Homes explains that window blinds do an excellent job of keeping your house cool when it's hot outside. During the summer, blinds can help cut heat gain by about 45% making them highly energy-efficient. Energy.gov agrees, noting that blinds do a better job of preventing the sun's heat from entering a house, than keeping the home's heat from escaping.
Because they are so easy to control, especially the motorized ones, you can effortlessly adjust your blinds to maximize energy efficiency. Hunker mentions that closing your blinds during warm weather months helps to keep the sun's rays from penetrating and heating up your home, forcing your air conditioner to work extra hard. The reverse is also true. You can increase energy efficiency by opening your blinds on sunny days, even when it's chilly, to allow the sun's warmth to help heat up your home.
There's actually a term for this; it's called passive solar heating. By allowing the sun to help warm up your house, you don't have to run the heater as much. During the summertime, if the temperature drops at night where you live, then you might want to consider opening the blinds a little bit after it gets dark to allow some of the heat to escape. The cool night air can help keep your cooling costs down.
Curtains and Drapes
Conventional curtains and drapes provide a nominal amount of energy efficiency when compared to other window treatments. However, you can boost energy savings by hanging them flush to the wall (and close to the window) to reduce airflow. The idea being that you want to prevent your heat or air conditioning from escaping. To make your curtains and drapes even more energy efficient, Green Energy Efficient Homes suggests overlapping the panels in the middle and using Velcro to secure the sides to the wall. This little trick can reduce heat loss by as much as 25%.
The color of your curtains and drapes can also impact energy efficiency. In bedrooms, you might want to consider room darkening drapes. Not only do they help reduce your energy consumption, but they also offer incredible privacy and light control – and they're ideal for sleeping because they block out street lights and sunlight.
For the common areas of your house, look for medium-colored drapes with a white plastic or vinyl lining. These are especially effective in homes in warmer climates or for windows that get direct sunlight for most of the day. The white lining acts as a reflector, preventing the sun's light from heating up your house. And by choosing a medium-colored fabric, natural light is able to enter the room without creating excess heat. This could save you even more money on your power bill because you probably won't need to turn on lamps or overhead lights during the day.
Additional Tips
No matter what type of window treatment you have, there are certain things you can do to improve the energy efficiency of your home. During the summer, or if you live in a warm-weather climate, keep your window treatments closed as much as possible. During the day, this will help to block the heat from the sun and at night it will help keep the cool air inside of your home.
If you live in a cold-weather climate, keep your window treatments open during the day to allow the sunlight to enter your home providing "free" solar heat. As an added bonus, allowing the natural light from the sun to enter means you don't need to use artificial light, thereby reducing energy usage. However, on cloudy days be sure to keep your window treatments closed to preserve the warmth inside your house. Keep them closed at night as well to provide an added layer of insulation to maintain your home's level of heat.
---
Conclusion
Window treatments aren't just for show. They serve a particularly important purpose by providing privacy in your home and offer substantial energy savings. Whether you are choosing plantation shutters, blinds, shades, or conventional curtains and drapes, don't be afraid to ask questions to find out which type would be best for your home. You might be amazed to learn how much money you could save by installing energy-efficient window treatments.
Sources
https://www.energy.gov/energysaver/energy-efficient-window-attachments
https://green-energy-efficient-homes.com/energy-saving-window-coverings.html
https://www.hunker.com/12003500/can-you-save-energy-by-turning-your-blinds-down