What Can I Put on Windows Besides Curtains?
Installing the right window coverings throughout your home is essential. Window coverings provide privacy for you and your family, and they help block out the sun's harsh rays. They add a nice aesthetic touch to your home, too.
When you think about installing window coverings, your mind might immediately wander to curtains of all different types, from breezy sheers to non-nonsense valances. Although the right curtains can serve a great purpose and look fantastic in the process, you could be wondering about your other options. For example, you might want a simple, minimalist look in your home, or you might dread having to wash and take care of big, heavy curtains. Alternatively, you could be hoping to pair your curtains with additional window coverings for added privacy and energy efficiency.
If you want to opt out of hanging curtains or if you are looking for a secondary window covering, you may want to check out the options below.
Blinds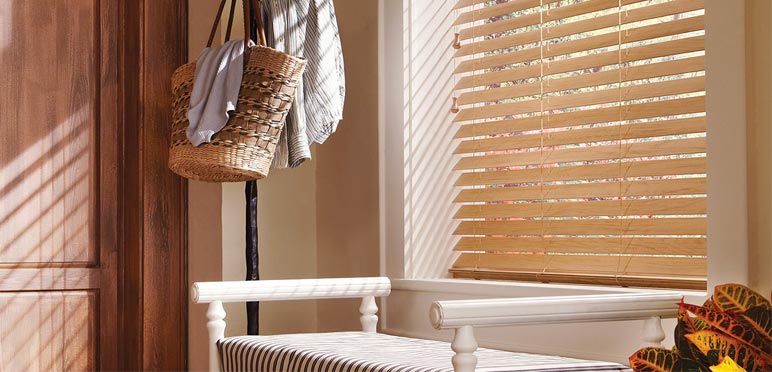 Blinds are one of the most popular window coverings out there for a reason: they work. Economical mini-blinds are a popular choice; they are typically quite affordable, and they can be adjusted for near-total privacy or to allow a little bit of sunlight in.
These mini-blinds are not your only--or even your best--option if you are interested in blinds, though. If you are willing to spend just a little more, you can opt for higher-end, longer-lasting and more attractive horizontal blinds.
For example, faux wood blinds provide a great mix of affordability, ease of maintenance and aesthetic value. They offer a very similar look to real wood blinds, but they are typically more affordable and easier to take care of. In fact, all you have to do is dust them with a clean microfiber cloth or duster from time to time to keep them looking great. You can also clean them with a little water and dish soap, and you shouldn't have to worry about water damage, as long as you dry them thoroughly when you're finished. You can use them in conjunction with a nice set of curtains if you want to, but you might prefer to show off your attractive faux wood blinds with no obstructions.
Real hardwood blinds are another great option. They create a high-end aesthetic in the home and can last for a very long time. You can clean them with your favorite furniture polish to make them shine. Just make sure that you are careful about getting them wet when cleaning them, since moisture can damage your hardwood blinds over time.
Faux wood and hardwood blinds are two very popular options. You can also choose from metal blinds or vinyl blinds. Also, be aware that both horizontal and vertical blinds are available. Horizontal blinds are the standard choice for typical household windows, and vertical blinds are a popular choice for very large windows or sliding glass doors.
Shades
Shades can be used instead of curtains or blinds. The right window shades can provide full coverage of your windows when they are closed. Many shades are designed to be energy efficient. Shades also come in different colors and styles to help you achieve just about any look that you want in your home, all without having to purchase and install curtains.
Simple roller shades are a simple and affordable option. Their simple, easy-to-use design makes it a breeze to control the light that can shine into your home. You can choose from manual options or motorized roller shades that can be controlled with a remote control. Either way, you can clean them with ease, and you don't have to worry about wiping down individual slats.
Roman shades are very popular and might be a good fit for your home. They're lightweight, energy-efficient and flexible, so you can allow in just the right amount of light for the situation. Honeycomb shades are yet another option that you may want to look into.
Plantation Shutters
If you are willing to spend a little more on window coverings for your home, you should explore the plantation shutter options that are out there. Plantation shutters actually improve your home's value, since they are considered more permanent window coverings than curtains, blinds or shades.
Many people love the touch of Southern class and style that can be added to their homes with the addition of plantation shutters. Plantation shutters offer a cozy yet high-end look, particularly if you choose the right finish and ensure that they are properly installed. Believe it or not, they can actually help with blocking out noise, and they can also be used for light control and privacy.
One unexpected benefit of plantation shutters is the fact that they are often a better choice for households with kids and pets. You don't have to worry about cords or strings posing a hazard, and they can often hold up better over time in households with small children or pets.
Window Tint
Window tint isn't just for your vehicle windows. You can actually have window tint added to some or all the windows in your home. This is a good way to protect your household furnishings from the sun's harsh rays, and it helps with energy efficiency.
Many people prefer window tint because it is so easy to take care of. It's critical to ensure that your window tint is professionally installed, since air bubbles and wrinkles are a common issue with DIY installations. As long as your tint is installed properly, you should be able to clean your windows with a tint-safe window cleaner without worrying about cleaning curtains or blind slats. Window tint provides a minimalistic look, but many people miss the cozy look that can be added with the right window coverings. To block out even more of the strong Florida sun and add aesthetic appeal, you could combine window tint with any other type of window treatments.
As you can see, curtains are not your only option for covering up your windows. There are actually a host of different window coverings that you can add for privacy, light control and aesthetic value. For help with choosing and installing the right window coverings for your Tampa home, contact us at Florida Shutters & Blinds.